Many of the options I presented in yesterday's post were not so easily affordable. Today, I would like to present a few rashguaurd options that are under $20 but will still keep you tznius and your skin protected from the sun.
Old Navy Long-Sleeved Rashguard
I have to be honest. A friend from high school inspired this post. She saw yesterday's blog post, and found a
rashguard on OldNavy.com
for $15 (on sale) and posted it to my Facebook wall. What's even more remarkable is that the regular price of this rashguard is only $16.94. Unfortunately, sizes extra-small and small are sold out in each of the three available colors, but if you're a size medium, large, or extra-large, you're in luck! I've owned Old Navy swimwear in the past and I've been happy with it, although I've never tried an Old Navy rashguard. The rashguard comes in Black, which would match the
swim skirt I posted about yesterday
perfectly. The combo of this rashguard and that swim skirt would come to $74.50 (plus tax, and the cost of swim undergarments), which really isn't so bad given that swimsuits through the tznua companies generally cost $100+ (and are still too short in the skirt for me).
Nike Rash Guard Shirt
Our next entrant is the $18.00
Nike Rash Guard Shirt
at
Kohls
. I'm still in shock I have an $18 price on a long-sleeve shirt by Nike that's not made out of cotton. What's even better is that you my be able to get an additional 15% off with coupon codes (making the cost of this rashguard $15.30 + tax). A few to try would be "SUMMERFUN", "COOKOUT", "PICNIC", "FLOWER15FB", "MYSAVINGS", and "HOT15" to name a few. Most, if not all, of these codes expire tomorrow, so hurry to use them! I'm a big fan of Nike's exercise tops, and I would hope that knowing Nike's quality, this rashguard will not disappoint!
Body Glove Deluxe Rash Guard - Long Sleeve
Slightly more expensive, at $22.95 (but it becomes at most $18.36 with coupon codes), is the
Body Glove Deluxe Rash Guard - Long Sleeve
at
Sierra Trading Post
. The logo is really cute on the front, and it's a great deal for a Body Glove rashguard. Three colors are available - "River Blue/White" (shown), "Ice Green/White" and "White/Pink." Unfortunately, Sierra Trading Post doesn't offer any free shipping options, so unless you order more items, you'll spend about $24 just for this rashguard after a 20% discount ("ALHIKE3", expires 6/6/13) and shipping. If you order $75+, try code "EMY13" for a 25% discount (unknown expiration), or if you're spending about $125 or $200, you can receive 25% or 30% off, respectively, with code "ALMAY3" through 6/6/13. You're also out of luck if you need a size larger than medium.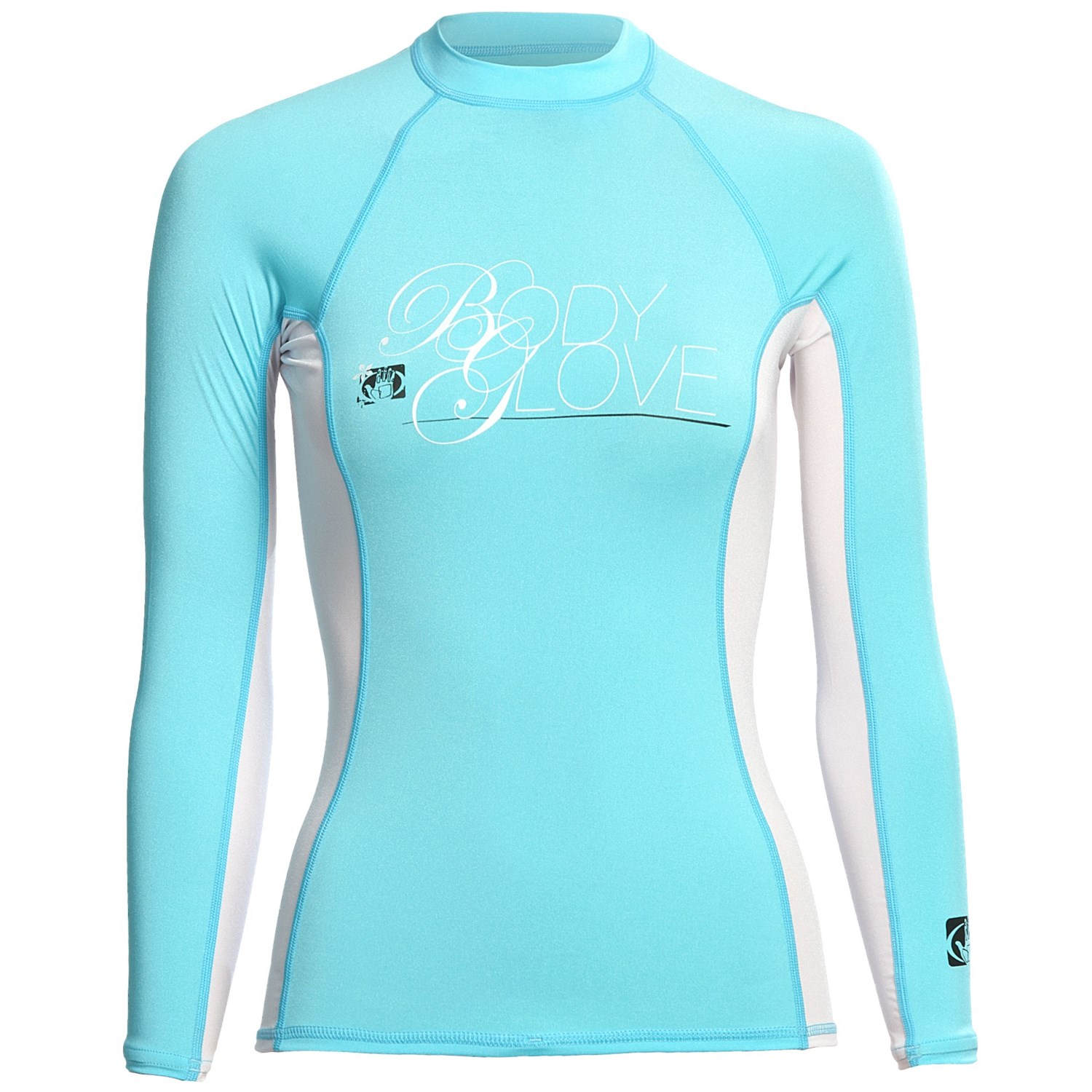 All three sites (and in reality most sites) featured on my blog offer cashback when you place your order after clicking through
Ebates
. The current cashback for the three stores featured on this post is from 2% to 3%. We love Ebates because they send us a check every quarter. I've touted it on the blog before and I think it's worth mentioning here again. (Note: the link to Ebates is my personal referral. If you sign up through my link I get an extra $5 in my next quarterly check. If you have other friends who's referrals you'd rather use, make sure you ask for their referral link before you sign up for an account.)