It's swim season ladies! And you know what that means? ... Hours and hours of scouring the internet for tznua swimwear! Here are my top picks for what to wear into the water this summer!
Pareo Cover Up by Coolibar
I found it. I found a skirt made out of swimming material that wasn't from a frum site. I thought it was impossible. I really did. But here it is. The
Pareo Cover Up by Coolibar
. I'm just as shocked as you are to find that this exists. Unfortunately, it may not be the best for swimming in deep water because it's so narrow, but you can definitely do some wading in calm water in this one. It would also be really cute to wear to the water parks! At $59.50, it's not inexpensive and still needs undergarments (
swim tights
and/or bikini bottom based on your personal preference), but for an item that's as difficult to find as this is, I think it's a great deal.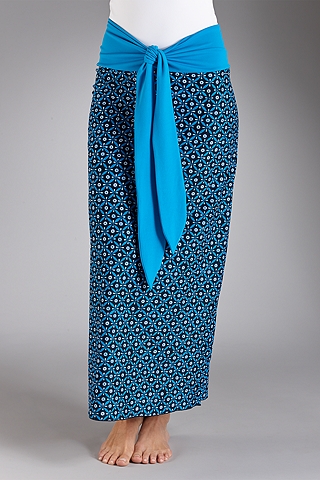 Coolibar offers free shipping on orders of $150 or more. It also provides a
free bucket hat
on orders of at least $100. The bucket hat is cotton, so not for the water, though.
Resort Swim Shirt by Coolibar
Coolibar
also offers
11 tznua rashguard options
, ranging in price from $65.00 to $89.50. One interesting option is the
Resort Swim Shirt
for $85. At 25" long, it's 1.5" longer than a normal rashguard. It also has a more relaxed cut for those who are worried about swimwear being too tight-fitting when wet. It seems to be a great option for tznua clothing wearers who want to get wet without sacrificing modesty.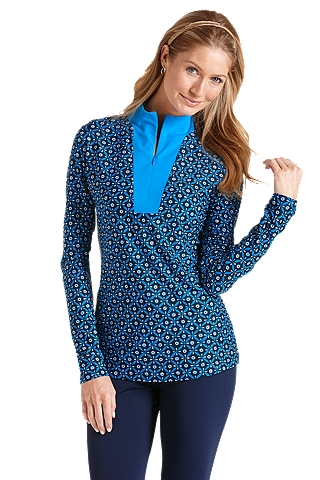 Cabana Life Rashguards
There's been a proliferation of rashguards this year available on commercial websites. This is an awesome development given that only two years ago it was nearly impossible to find rashguards for women. Now, even
Tory Burch
has gotten into the rashguard mix (but most of us don't want to spend $175 - $250 on a rashguard). So, if a mixture of relatively affordable and super cute are your goals for a rashguard, look no further than
Cabana Life
. Cabana Life's
Palm Rashuard
is beautiful. It's print makes me want to go to Palm Beach or Hilton Head and just sit at the beach. It just looks expensive. But, at $68, it's affordable for a rashguard that has care in its design. I really like it, and it's going to take a bit of will-power for me to not buy this right now.
And if my favorite rashguard doesn't float your boat, so to speak, Cabana Life offers
21 other tznua rashguards
with prices ranging from $50 to $72. Even
Oprah
likes them!
Just for kicks, here's a picture of
Oprah's favorite
, which is $54. It's my second-favorite!
Athleta Rashguards
One retailer that has consistently sold rashguards is
Athleta
. To be honest, I was nervous when Gap acquired Athleta that they would get rid of certain item categories, like rashguards. To my pleasant surprise, Gap has kept Athleta's rashguards and expanded the
number of styles available
. Gap has also opened a number of Athleta stores across the US, so you can even try Athleta merchandise on in-person. They also offer returns on items after you wear them if you don't like them (like Nordstrom and J.C. Penney)!
Atheta's old-faithful rashguard style is the
Ruched Guard
. It is always available in at least a few colors and the price ranges from $49.99 (for sale colors) to $69.00 (for regularly-priced colors). It also can provide extra length by adjusting the strings on the side.
J. Crew Rash Guard
Even J. Crew's gotten in the rashguard act. They offer
10 tznua styles
, so you can feel like a
First Lady
when you go swimming. I really like everything they offer, and with prices ranging from $47.60 to $210.00, there's a rashguard for every budget. (Note prices will rise on June 3rd to at least $68.00, so go shopping while they're on sale.) For a style under $50, I like the
Polka-Dot Rash Guard
in Navy.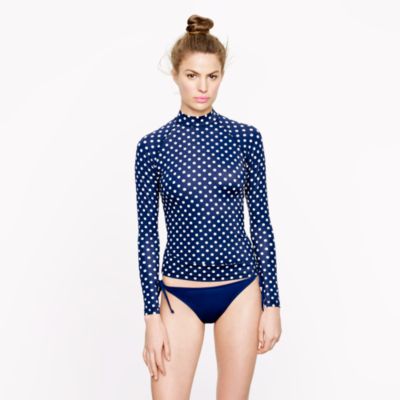 Lands End Swim Shirts and Rashguards
Last but not least for today, are the rashguards from Lands End, a store where I can find almost anything tznua, as long as it's not simchawear that I'm looking for. Lands End has
8 options
, and with their current swim sale (40% - 60% off), prices range from $20.40 to $23.40 (Misses sizes), making these rashguards the most affordable of the bunch thus far. As an aside, I have ordered these before and I did not love the material for myself. But, they do get excellent reviews from other Lands End customers and Lands End has an excellent return policy where you can return the item at any time if you don't like it.
One style to consider is the
Stripe Crewneck Swim Tee Cover-Up
in White/Black Stripe.