I'm not a proponent of shopping during the Nine Days. I know that Ashkenazic custom frowns on the practice, while Sephardim have a bit more wiggle room. But, in my completely non-rabbinic opinion, a deal is a deal and there are some deals worth sharing during the Nine Days.
I received a large Lands End order in the mail on Monday. I cannot emphasize it enough that I LOVE MY PURCHASE! I haven't been this excited about an online purchase since I received the Lands' End clothing mentioned in
this blog post from December 2011
. Yes, it has been that long since I loved a ton of clothing at once.
Here is a breakdown of what I received and why I love it. I found every item of clothing to be consistently sized. For those who are unfamiliar with Lands' End's sizing, think of it as more your "happy" size than your default size. I know I will get grief from my friends for posting this, but I'm 5'8", 125-130 lbs and my Lands' End size is solidly an XS or a 4. Their sizing is a tad more generous than Gap's, but it's not a full size more generous, so if you're in between sizes at Gap, size down for Lands' End, if that makes sense.
If you do order Lands' End online, I recommend clicking through
Ebates
or a similar site in order to earn cash back on your purchase. Lands' End regularly offers 3% cash back through Ebates, but a promotion today offers 6% cash back.
And now for the fashion.
Women's 3/4 Sleeve Sport Knit Dress
I am so excited about the Women's 3/4 Sleeve Sport Knit Dress. It's currently $19.99, no coupon code needed. I found that my collarbone was covered in all three colors I bought - black, navy, and cobalt. And, at 45" it easily covers my knees when I'm sitting. This dress got an enthusiastic reaction from my husband who tends to be very honest about how clothes fit and look on me. (I actually love that about him because I'm often my harshest critic.) He volunteered that these dresses could be worn to a special occasion. While I wouldn't wear them to a black-tie affair, I definitely think they're nice enough to be worn by guests to most frum weddings. I will have to figure out a decent way to tie the sash, but it's relatively thin, so I hope I'll eventually be able to copy the bow on the model. This dress is also available for $24.99 in a
navy-with-mini-white-polka-dot pattern
. It wasn't available in XS when I placed my original order, but it is available in XS now. I'm thinking of replacing the plain navy dress with the polka-dotted one because it's a really cute design.
The negative with this dress, which is a negative of any dress that gets shipped in little packages is that it arrived wrinkled. These will likely go through the washing machine and dryer before I wear them to get those pesky wrinkles out. (Alternatively I may just tumble dry them after splashing them with some water.) But, the bigger point here is that they're machine washable tznua-off-the-rack dresses for $19.99 - $24.99 and they're backed by
Lands' End's Guaranteed. Period.® policy
.
Finally, this dress is unlined and made of cotton. If you don't want panty-lines, I strongly recommend pairing this with
Spanx
(but watch for thigh bulges) or
Hanky-Panky
-like no-show lace thongs (including
Victoria's Secret The Lacie Thong
). You could also try wearing a skirt slip, which would allow you to wear a slightly wider array of undergarments with this dress, but you would need to pay attention to lines at your waist from the slip.
Women's 3/4-sleeve 1x1 Snap Boatneck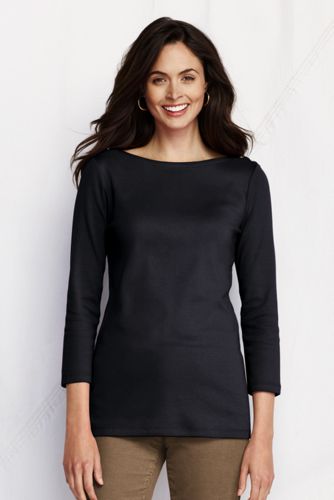 Comfortable, well-fitting, tznua 3/4-sleeve cotton knit shirts aren't always easy to find. Lands' End is a favorite of mine partially because they regularly make shirts that fit this description. At $12.99 currently, these are available for an awesome price. I already received one in black and after Tisha B'Av, I'm certain it's going to be one of my go-to shirts. I love it and it's impossible to have too many black (and white) shirts. This shirt is available at $12.99 in seven colors, although not every color is available in every size. I'm planning on ordering more in "Raspberry Ice" and "Purple Beet." This shirt looks great with the Sport Knit Skirt featured next.
Women's (Pattern) Sport Knit Skirt
Here is the 27" long Women's Pattern Sport Knit Skirt. It is the same material and pattern as the midnight-with-white-dot Sport Knit Dress discussed above. I'll likely be returning this skirt because it's not as practical for me after I have a dress in the same pattern, but it's very cute. It goes great with the 1x1 Snap Boatneck as seen in this picture. The only negative is that the price is currently $14.99 when it was $10.99 on July 22, the day I placed my order. C'est la vie! It's still a great value. You can also find this skirt in
four non-staple solid colors
(pink, cobalt, eggplant, and white) for $14.99.
This skirt is not for everybody. The smooth elastic waistband does not have much give over the hips and I really felt I could break the elastic with time. Sizing up just resulted in the waistband gapping, which did not look nice. I also recommend the same undergarments I recommend for the Sport Knit Dress.
Women's Ashby Essential High Heel Shoes
Clothing is great, but you also need shoes. Shoes are so important. We demand that our shoes be cute, match our outfit, and define our personalities. But we don't always demand comfort. Well, I think we should. And these Ashby Essential 3.25" pumps are some comfortable heels. They're currently $37.97, but I paid $27.99 on July 22 for them. Hopefully, the price will drop again. But, even at close to $40, these shoes are WORTH EVERY PENNY!
First, these shoes are 100% leather - from the upper to the liner to the sole, these are leather. Second, they're very padded inside. I think they're similar in comfort and quality to my Cole Haan Air Violet pumps for which I paid $147.90 in February 2012. Admittedly, the Air Violet pumps are black patent, and I didn't think the black
Ashby Patent High Heel Pumps
were comfortable, but the nude Ashby Patent pumps were keepers. I found the shoes fit true to my normal shoe size of 9. There is a slight amount of gappage on the sides of my feet, but not more gap than I find for any $100 - $200 pair of shoes.